So I really love the idea of
miscellany monday
and am trying my darnedest (is that a word; didn't want to swear) to remember to post on time. I will make this quick!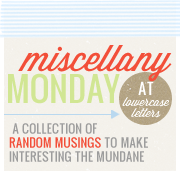 I wish I could wear jeans to work. It would make my day start so off much better. For some reason, its always easier to find something to wear with a good pair of jeans..even my shoes look better with jeans. With jeans I don't stare at the closet for a half an hour hoping something will change miraculously! NO...with jeans it seems to work out just right.
Today Lover Unleashed by the fantastic JR Ward comes out! This is my favorite paranormal series; the characters are just so delicious. Just purchased it on my Nook from Barnes and Noble......Yes I'm looking forward to sitting down to some badass Vamp romance. I recommend this series to all!
9th in the series-Can't wait to start it.

Do you cut coupons? have a Kroger card? I'm not a fanatic but I try to save when I can. Check out
http://www.shortcuts.com/
. Once you sign up, you can load coupons onto your card and save at the register. Even if you have a paper coupon of the same item, the electronic coupon applies too. Double the savings!
I think thats it for me...need to catch up on my DVR backlog. 4 weeks of Kourtney & Kim Take New York ..don't laugh...they crack me up!